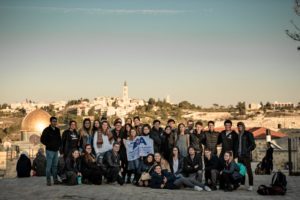 The next ZOA Student Leadership Mission to Israel will be taking place from December 26, 2023 – January 4, 2024. Applications to the winter trip are now open!
The ZOA Student Leadership Mission to Israel is an educational and intensive advocacy trip that explores Israel on the ground and in-depth. Students will have the opportunity to travel throughout the Jewish state, including Tel Aviv, Jerusalem, Judea & Samaria, and many strategic border regions (Western Negev, Galilee, Jordan Valley, and Golan Heights). Students will also meet with Knesset Members, security officials, journalists, policy experts, and much more. This trip is intended for students who are Israel activists on their campuses or are planning to become Israel activists in the near future. The trip will arm you with the facts and unique personal experiences you need to be a strong Zionist activist on campus.
Please view the sample itinerary for our student Israel trips. Please note that each itinerary is different, but this will give you a good idea of the programing on the trip.
By participating in this trip, you are committing to continue your Israel advocacy on campus after the trip and to work with ZOA Campus staff to bring Israel programming to your campus. Acceptances are given on a rolling basis, so applying early is strongly recommended. If you have any questions, please contact your ZOA Campus Coordinator.
The application process proceeds along the following steps:
Fill out the application below..
Once we receive your application, we may contact you for a video interview.
If chosen, you will move on to a second video interview.
In addition to the second video interview, we will require at least two recommendations. Examples of acceptable recommendations include professors, Hillel or Chabad directors, group faculty advisors, staff members of previous Israel trips, current or former employers, rabbis or other spiritual leaders, etc. Recommendations may NOT come from friends or family members. If chosen for this stage of the interview process, we will send you the form for the recommendations with instructions.
***Note: Some of the questions ask you about your views on certain issues. Please note that we do not accept students based on the views expressed in the answers. We ask these questions to get a better idea of your knowledge on the issues and your understanding of the region. We want to make sure you have a strong understanding of the region.
Trip Waiver: Upon acceptance to the ZOA Student Leadership Mission to Israel, all participants must agree to ZOA trip policies. The full trip waiver can be found here. This includes travel specifications and mandated insurance.
COVID-19 Waiver: Information regarding COVID-19 in Israel is highly dynamic and continuously changing. All participants on the ZOA Student Leadership Mission to Israel must adhere to the regulations upon entry of the Israeli government and Health Ministry.