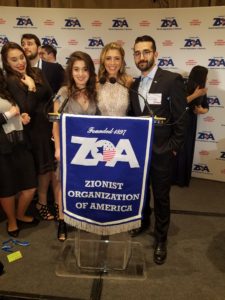 ZOA's Justice Louis D. Brandeis Award Dinner 2018 will be on a new date and a new location, taking place on November 4, at the Marriott Marquis Hotel, NYC.
The event will begin with a glatt kosher buffet reception at 4:30 P.M., followed by a glatt kosher gourmet dinner at 6 P.M., and a dessert reception after dinner.
Join student leaders from across the country as we celebrate the ZOA and the pro-Israel community and the chance to be a part of one of the largest Zionist celebrations in the country!
This year's event will feature the following (among others):
Amb. John Bolton – U.S. National Security Advisor
Amb. Richard Grenell – U.S. Ambassador to Germany
Mark Levin – Fox News Host & Radio Host, The Mark Levin Show
Dr. Bob Shillman – World Class Entrepreneur and Philanthropist
Kimberly Guilfoyle – Gala Emcee, Co-Host Fox News, The Five
While the regular event ticket costs $750, students may attend for only $50! 
The special student Early Bird price is just $36, HURRY early bird SALE ENDS on October 5th!
Come get dressed up and spend time with other Zionist students from all over the US.
All students must present a valid government-issued ID, as well as a valid student ID.
Please register here. Tickets will sell out quickly, so please register as soon as possible if you would like to attend.