Check out this page every month to read about our featured student! We choose ZOA students who have shown passion and involvement in Israel advocacy and exemplified leadership and respect in their work. We work with students on campuses across the country to address all areas of Israel advocacy from exploring Jewish history and promoting Israel's achievements to confronting anti-Israel harassment and combatting anti-Semitism.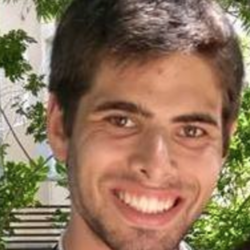 My involvement with ZOA increased after I attended the Student Leadership Mission Trip to Israel because I recognized the importance of having a Jewish state and advocating for our self-determination. Not only did I became more educated on the history and the the political culture of Israel but I learned how to effectively advocate for Israel. As a ZOA Campus Fellow, I am thankful to work with a passionate and dedicated team who support my efforts in hosting events and tabling on campus. I could not be more proud to be a Zionist and represent Israel on campus with the help of ZOA.
More »

Very fortunately, my school is non-political regarding Israel issues. Therefore, my events focus more on Zionism and Israel culture itself, rather than heated and polarizing politics. For my first event with ZOA, I gave a speech on how Zionism reflected on that week's parsha (Torah portion) and we were fortunate to advertise ZOA's incredible trip at a Hillel party. We have two more Israel events coming up shortly: a movie screening about the story of an IDF soldier, and a Krav Maga lesson to learn self-defense.
More »

At the beginning of Fall 2016, I was merely a ZOA Campus Fellow. After participating in the ZOA Student Leadership Mission to Israel, I have learned so much about the Jewish state. Additionally, I have been given opportunities through working with ZOA Israel Director, Jeff Daube, such as testifying at a Knesset hearing discussing Israel's relationship to Jews in the Diaspora, attending a panel discussion with the authors of "Our Separate Ways," and, most of all, attending a breakfast with the President of Poland. For the past 5 months, ZOA has provided me with a plethora of information and opportunities that I am beyond thankful for, and I hope to give them justice on my campus.
More »

ZOA Campus for me started with the summer Student Leadership Mission to Israel. I feel like I came back with a truly enforced understanding of the difficult situations in Israel, and that I had the tools to hold a conversation with anyone about it. The West Coast campus coordinator for ZOA, Leore Ben-David, has been absolutely amazing in turning what we want to do into a reality. Every time that we host a table on campus, we always have support from her – she would show up with SodaStream root beer floats and enough attitude and energy to wake up the entire school (even when she was sick)! Whenever any local Israel related events are happening, I always get a text or a call from her to invite me and other members of our club to attend. That being said, we also never feel like we are being told what to do. All of our events are our own ideas, and no agendas are pushed on us which allows us to really feel connected to and proud of our events on campus.
More »

Before my involvement with ZOA Campus, I considered myself a Zionist and an Israel supporter, but I was not active in my support. Since then, I have been involved with ZOA Campus for more than two years, interning with them for the past two summers and attending the Student Leadership Mission to Israel this past summer as well. It is no overstatement to say that ZOA Campus has changed my worldview with regards to Zionism and activism in general; ZOA gave me the drive and the ability to energetically fight for the homeland of the Jewish people both on and off campus. The strong support for Zionism and Israel exuded by the organization is rubbed off on everyone it touches, myself included.
More »

As a ZOA Campus Fellow and intern I have gained valuable experience that has been instrumental to my Israel advocacy. Working with dedicated ZOA staff has given me a greater appreciation for the state of Israel and a more profound knowledge of its history, culture, and politics. Additionally, I have learned techniques to effectively advocate for Israel through both written and verbal means. The ZOA has recommended me as a speaker for several pro-Israel events in New York State, allowing me to share information about anti-Semitism and anti-Zionism on campus as well as techniques to effectively combat these issues. Promoting education and advocacy for Israel at these events has been a highly rewarding experience. I am extraordinarily grateful to the ZOA for all of the amazing resources and relationships it has provided me with and look forward to my continued involvement with the ZOA.
More »