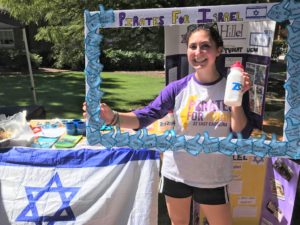 ZOA Campus offers a paid fellowship each academic year that is open to all college students across the country. The ZOA Campus Fellowship is a highly enriching program that is offered on a selective basis. ZOA Campus Fellows act as paid interns to organize engaging and educational pro-Israel programs on their respective campuses. ZOA Campus Fellows are encouraged to host events that are best suited to their campus environment. Upon completion of their tasks at the end of the academic year, ZOA Fellows receive a $1,000 base stipend plus the opportunity for additional incentives.
ZOA Campus Fellows must complete the following requirements during the academic year:
Online Advocacy Training
Attend and participate in at least 2 online advocacy sessions per semester led by ZOA Campus staff and expert guest speakers.
Hosting Events (In-person or Online)
Organize at least 4 events over the course of the academic year (2 per semester). You may organize events in-person or via video platform (e.g. Zoom). These can include guest speaking events, festivals, film screenings, student led educational events, dinners, etc.
Fellows will have the support of their ZOA Campus Coordinator and are encouraged to work with other pro-Israel activists on campus to plan exciting events and to promote the Jewish state. If you are interested in becoming a ZOA Fellow, please fill out the application below and contact your regional coordinator.