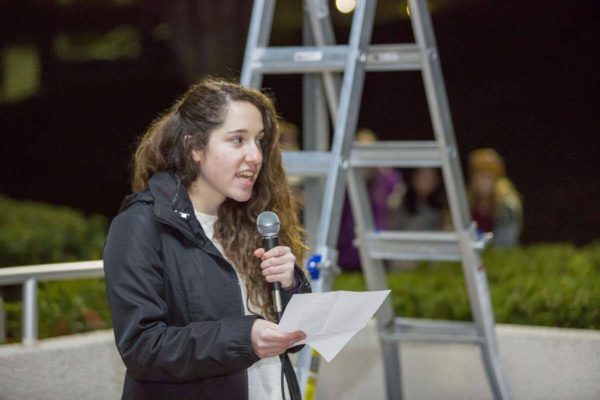 About two weeks ago, the Student Government Association at the University of Maryland voted on a resolution entitled "A Resolution to Promote Human Rights by Divesting from Companies that Profit from Investments in Palestine" – essentially a Boycott, Divestment, and Sanctions (BDS) bill aimed exclusively at the only peaceful democracy in the Middle East. Fortunately, there is not a strong anti-Israel sentiment on campus at present, but it was important for the pro-Israel community to set a clear precedent that BDS has no place on our campus, or anywhere for that matter. Taking comfort in the fact that UMD's President, Wallace Loh, has repeatedly denounced BDS and the fact that many student government members are active in the pro-Israel and Jewish campus communities, we could tell that the BDS resolution did not stand a chance at passing. But with the recent passage of a similar resolution at the University of Michigan the night before, nothing was certain.
In anticipation of the BDS resolution, I met with many students to brainstorm ideas for how to best express our thoughts and heard from student leaders on how they wanted to stop this discriminatory bill from passing. As much as Israel's politics may divide us at times, the outpouring of support from all throughout the Jewish community and beyond was an opportunity to realize that at the end of the day, we are all united in our support of the Jewish State. After listening to 61 student speakers – myself included – an overwhelming 45 expressed opposition to the BDS resolution. The 16 who spoke in favor of the resolution used empty rhetoric, falsely purporting genocide and human rights violations. After a long but thrilling nearly four hours of public debate, the student legislators ultimately voted against the BDS resolution.
At a time like this, I am proud to be a Terp and help represent UMD's Jewish community in voicing my opinion against the bill, yet I cannot help but think that we will face more resolutions like this in the semesters ahead. Debate only takes us so far, and it is not enough to merely speak about how BDS is divisive and detrimental. Rather, considering the ruthless nature of anti-Semitism and anti-Zionism sentiments, it is imperative that that we transform our talk into action. By leading consistent campus-wide events that break down the false accusations and biases against Israel, we will reinforce the truths about Israel that we voiced at the debate. From erecting a 'Wall of Truth' to counter the falsities of the annual pro-BDS 'Apartheid Wall' to partnering campus clubs with pro-Israel groups to learn about Israel, every effort counts. Creating an environment takes patience, but it is worth all the time to foster the truth about Israel. These hard truths must not be overshadowed by the pro-BDS side's catchy calls to the heart. As Zionists fighting for our homeland against people who deny us this basic right, we must remember that we are not speaking to the opposition. Rather, we are speaking to the student government. We are speaking to the rest of the campus. We are speaking to the onlookers. What these groups want to hear is the unequivocal truth, and it is our job as Zionists to provide an avenue for it. And in navigating this path, we must not be afraid to cite the undeniable truth – a truth that is inherently on our side.